Plano Brick & Stone Repair
What Constitutes Proper Maintenance?
In a word – sealants. The careful application of modern sealants helps prevent external erosion. Decreased permeability also deters swelling and contraction during freeze/thaw conditions and can, to some extent, resist the deterioration that occurs after impact erosion wears down the surface, (from repeated traffic).
Applied Knowledge creates
Beauty and Practicality
Not only do modern cement masons understand the properties of cement; they are also versed in tactics that deter as much water as possible from the surface of a concrete walk or driveway. The structural forms used to create stamped concrete pads are part of a system that utilizes sound physics principles to implement drainage pitch and channels which facilitate appropriate runoff.
So, what was concrete of the past like? Imagine a gravel bed filled with small, rounded pebbles ranging in size from peas to apricots. To make concrete (brand name), you added sand and a pre-mixed cement designed to begin the hardening process. After the cement hardened it was believed it would last for centuries.
Unfortunately, the fledgling industry had much to learn. First, that soil particulates in either the gravel, sand, or re-bar could form air pockets that deteriorate cement from within; and second, that concrete should be treated with water repellents to prevent moisture from deteriorating the surface. We have gained much perspective since cement became the building block for our expanding nation.
Today's cement – especially cement used to form stamped concrete – limits gravel to pea sized or smaller. Both the gravel and sand are thoroughly cleaned using hydraulic water pressure; effectually eliminating dirt and debris. During mixing, any number of components can be added: *Those that speed up the hardening process, *Those that retard the hardening process, (so that stamping can take place), *Those that reduce alkali-silica re-activity, (to re-mediate salt crystallization), *Those that increase bonding, and *Those that reduce corrosion damage. The bottom line is that in today's world, we understand concrete better than ever before and can produce a superior product that, with proper maintenance, can outlast most homes.
Incredibly Versatile Stamped Concrete
Our predecessors were people of vision. Their generations created architectural icons that can be viewed in any city center and throughout our nation's highway and bridge infrastructures. If our ancestors had today's concrete at their disposal much of our nation's sidewalks and bridges might not be in disrepair.
Stamped Concrete
for Drives, Walkways & More!
Stamped concrete is quickly becoming the most desired drive and walkway surface in America. When cruising the streets of Plano, Frisco, Carrollton, and surrounding areas, examples abound regarding the design variations and longevity of stamped concrete. Escpecially attractive are paved surfaces created within the past ten years, because improvments in both the concrete itself and maintenance procedures have helped increase their longevity and design options.
Here at Plano Brick Repair we are proud of the number of stamped concrete projects we have already completed; and will eagerly consult with you regarding your next project.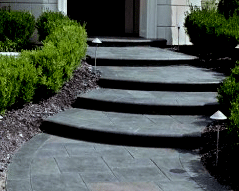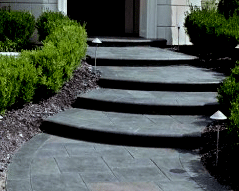 Click to view full-size image & description